It's been a long since you started with your business website. You must have noticed an increase in traffic and sales on your company's website.
However, with ever-increasing traffic comes ever-increasing server restrictions. Shared hosting is an excellent hosting service, but it is best suited for new websites.
Performance Impact of Shared Hosting
Shared hosting loses value as traffic grows and improves. Security threats become a thing. In fact, the traffic on other websites has an impact on yours. It is true that you wouldn't want any website to affect your site's traffic. If this occurs, it will impact the performance as well. It will lower your website's ranking, and you may suffer some losses as a result.
It is preferable to upgrade the web hosting service or plan on time and expand the business. The step is like this, you can start with shared hosting, and then upgrade to the best VPS hosting server. 
Editor's Choice: Check Out Popular Web Hosting Providers 2022
VPS Server
A VPS server will be the perfect solution for your website. It is like a better and advanced hosting that helps to expand business sites. If shared hosting offers shared resources, VPS will give you committed resources. It is far better than shared hosting if you plan to grow more. So I must suggest you switch to VPS hosting services.
If you want the best VPS provider, you should take a glance at reliable hosting. They are an excellent hosting service and have served thousands of users for years. For instance, MilesWeb offers a broad range of web hosting services, including shared hosting, dedicated hosting, WordPress hosting, cloud hosting, and resell web hosting plans. 
It not only provides the best services but also ensures a high-performing website. As a first-time user, you may also be eligible for discounts.
What is VPS Hosting?
A virtual private server refers to as VPS hosting. When you choose VPS, the host will deploy the physical machine. The physical machine generates several virtual servers and gets distributed to multiple users.
Each user has their own virtual server in a secure environment. Here it is not like shared hosting. You do not share the server or its resources, but all of them are entirely yours.
Because the virtual environment provides greater privacy, your website stays in a private surrounding from other websites. You don't have to be concerned about any website traffic interfering with your website's performance.
Further Reading: 19 Essential Skills To Become An SEO Expert
VPS is capable enough to handle heavy traffic. It doesn't limit users. In fact, it offers complete virtual private space and 100% committed resources. You need not worry about sharing it with other users.
Besides that, VPS plans are the best. They will meet all of your requirements at once. You can select between managed and self-managed plans.
VPS Hosting Services by MilesWeb
VPS plans start at RS.630/m, after a flat 25% discount.
The plans are designed to meet the needs of the website. They provide all of the resources and features needed to grow.
There are numerous plans available for VPS hosting services. MilesWeb provides the option of selecting between Linux and Windows VPS as needed.
Both VPS hosting options include managed and unmanaged plans. Unmanaged VPS is an option if you want to manage your server yourself. You can also choose a managed VPS plan if you lack time or skills.
In that case, the web host will take care of the server configuration, management and everything. You will still have the authority to control and manage your server if needed.
The main distinction is that in managed services, your host provides support 24/7. They help you with any changes, management, and installation processes required. However, in unmanaged services, server management is your watch. The host will only help with the physical machine. If you have any physical machine issues, you can contact the support team at any time.
Pros of VPS Hosting
Isolated environment
100% dedicated resources
High privacy and security
No noisy neighbors
Features to Avail in VPS
Unlimited Website Hosting
VPS plans allow you to host multiple websites. Just transfer all of your websites from shared hosting to VPS hosting. The company does not limit the number of websites you can host.
You can also earn extra money by reselling your resources. It's never a bad idea to have an extra income source.
Uptime of 99.95%
You will benefit from the highest network uptime possible. It guarantees your website's availability at 99.95%, so you won't have to worry about too many downtimes or server issues.
The company's priority is to provide you with the best experience possible, so put your worries in the hands of MilesWeb.
Operating Systems
MilesWeb provides a few different operating systems. You can select one and they will install it for you.
Dedicated IP
You will be assigned a unique IP address for your website. You are not limited to sharing it with other users. It is entirely dedicated to your site and will provide the highest level of security.
SSL Authentication
When you choose VPS plans from MilesWeb, you will receive one free SSL certificate. It encrypts and protects data on your website. Furthermore, it provides a safe environment for visitors to share personal information.
With an SSL certificate, your URL will switch from HTTP to HTTPS. After all, it will boost the company's authenticity.
Customer Service
It offers its customers customer service at all hours of the day and night. You can contact their support team with your questions, and they will respond instantly.
Conclusion
If you want to grow your business, VPS hosting is a great option. It has high uptime, high performance, and security. In fact, you can expand your business better with VPS.
MilesWeb is a high-quality web hosting provider. The company will assist you in improving your ranking and increasing your sales.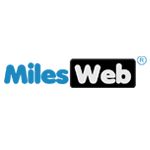 MilesWeb is among the industry's best and award-winning web hosting companies. If you are looking for the most reliable and affordable web hosting platform.